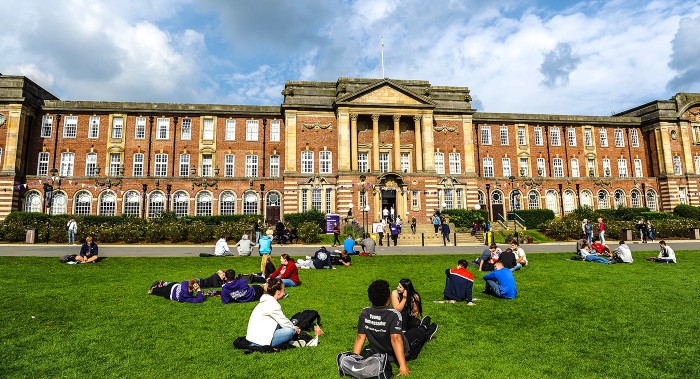 Leeds Beckett University
Vieta
Leeds miestas

Įkūrimo metai – 1824 (kaipLeeds Mechanics Institute), įgijo universiteto statusą 1992 metais.
Studentų skaičius – 23 200, iš kurių 18 000 – bakalauro programose.

Trumpas aprašymas
Leeds Beckett Universiteto istorija pradėta skaičiuoti nuo 1824 metų, kuomet savo veiklą pradėjo Leeds Mechanics Institute. Institutas svarbų vaidmenį suvaidino XIX amžiuje, kada Leeds mieste pramoninės revoliucijos metu buvo didžiulė paklausa darbuotojų su techniniu išsilavinimu. Vėliau mieste atsidarė daugiau technikumu. Kai kurie iš jų savo veiklą apjungė, taip susiformavo Leeds politechnikos institutas 1970 metais, kuris 1992 metais įgijo universiteto statusą ir pavadintas Leeds Metropolitan University. 2014 metais pakeitė pavadinimą į Leeds Beckett.

Šiandien Leeds Beckett siūlo ne tik platų pasirinkimą technikos specialybių, bet ir humanitarinių mokslų, meno, teisės, medijos ir kitas programas. Universiteto renovacijai buvo skirta 125 milijonai svarų, ir nuo 2020 metų Sports and Health programos studentai pradės studijas naujame pastate, kuriame įrengta naujausia technika, įvertinant tai kokia svarbiausia būsimiems sporto ir sveikatos studentams. Tolimesni renovacijų planai skirti į kūrybinėms programoms, kurioms skirta apie 80 milijonų svarų: naujų pastatų, muzikos studijų, universiteto teatro ir kino teatro statymas. Taip pat jau atnaujinta universiteto biblioteka – atsirado naujos patalpos grupiniams darbams, kavinė ir konsultacijų patalpos.

Leeds Beckett studentų sąjunga studentams siūlo dalyvauti įvairiose klubuose ir bendrijose, sporto komandose, programuotojų bendrijoje ir Hario Poterio fanų klube, jogos mėgėjų susitikimuose. Studentų sąjunga puiki vieta, kuriose organizuojami muzikos renginiai, kiekvieną savaitę vyksta britiškos ir užsienio atlikėjų koncertai.

Leeds – tai didelis šiuolaikiškas miestas, kuriame yra keturi universitetai, tai žinoma vienas studentiškiausių miestų Didžiojoje Britanijoje. Paskutiniuoju metu Leeds mieste įvyko rimtų architektūrinių ir kultūrinių pasikeitimų, dabar pramoninis miestas išnyksta ir užleidžia vietą šiuolaikiniams prekybos centrams ir meno galerijoms.

Nuotraukų galerija
Video
Bakalauro programos
Accounting and Finance
Adult Nursing
Architectural Technology
Architecture
Architecture & Landscape Design
Audio Engineering
Biomedical Sciences
Broadcast Media Technologies
Building Services Engineering
Building Surveying
Business Accounting with Finance
Business and Management
Business Economics
Business Management with Analytics
Business Management with Enterprise
Business Management with Finance
Business Management with Law
Business Management with Leadership
Business Management with Marketing
Childhood Development and Playwork
Childhood Studies
Civil Engineering
Computer Animation and Visual Effects
Computer Forensics
Computer Forensics and Security
Computer Science
Computer Security
Computing
Computing for Business
Construction Management
Counselling and Mental Health
Creative Event Design
Creative Media Technology
Creative Writing in Contemporary Culture
Criminology
Criminology with Psychology
Dance
Data Science
Dietetics
Digital Journalism
Early Years
Early Years with Enterprise
Economics and Finance
Educational Psychology
Electronic and Electrical Engineering
English and History
English Literature
English with Creative Writing
Environmental Health
Event Marketing
Events Management
Event Operations and Production Management
Fashion
Fashion Marketing
Filmmaking
Fine Art
Games Art
Games Design
Geography
Geography and Environmental Science
Graphic Design
Health and Community Care
Health and Society
History
History and Media
Hospitality Business Management
Housing Studies
Human Geography
Human Geography and History
Human Geography and Planning
Human Resource Management and Business
Illustration
Innovation and Skills for Social Change
Interior Architecture and Design
International Business
International Relations
International Tourism Management
International Tourism Management with Adventure Tourism
International Tourism Management with Marketing
International Tourism Management with Social Responsibility
Journalism
Landscape Architecture and Design
Law
Law with Criminology
Law with Finance
Law with International Business and Management
Marketing Management
Marketing with Advertising Management
Marketing with Retail Management
Media and English
Media Communication Cultures
Mental Health Nursing
Music Industries Management
Music Performance and Production
Music Production
Music Technology
Nutrition
Performing Arts
Physical Activity, Exercise & Health
Physical Education
Physical Education with Outdoor Education
Physiotherapy
Politics
Politics with Global Development
Politics with Peace Studies
Politics with International Relations
Politics with Political Economy
Politics with Human Rights
Primary Education with Recommendation for Qualified Teacher Status
Product Design
Project Management
Psychology
Public Health and Society
Public Relations and Brand Communication
Public Relations with Journalism
Quantity Surveying
Real Estate and Property Management
Robotics and Automation
Safety Health and Environmental Management
Science of Sport Performance
Social Care, Justice and Recovery
Social Psychology
Social Work
Sociology
Sociology and Criminology
Sociology and Psychological
Speech and Language Therapy
Sport and Exercise Nutrition
Sport and Exercise Science
Sport Business Management | BA (Hons)
Sport Development
Sport Marketing
Sports and Exercise Therapy
Sports Coaching
Sports Events Management
Teaching and Education
Theatre and Performance
Working with Children, Young People and Families
Youth Work and Community Development (JNC)
Stojimo procesas:
- UCAS forma turi būti užpildyta iki sausio 15 d. Baltic Council – oficialus registruotas centras visuose Baltijos šalyse.

Registruokitės į nemokamas konsultacijas ir pasinaudokite mūsų paslauga: Pagalbos centras stojantiems į bakalauro programas.